Meet Dr. Murrey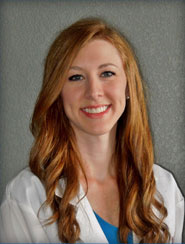 Dr. Ashley Murrey was born in Austin, Texas.  Her family moved to Tennessee where she attended elementary through high school.  She found her way back to Texas to attend Texas Tech University in Lubbock and met her husband, Matthew.  They moved to Dallas, and she graduated from Baylor College of Dentistry and has since made Fort Worth her home.
Dr. Murrey has spent her dental career working in group practices before she decided to start her own practice closer to home in Fort Worth.  She is a member of the American Dental Association, Texas Dental Association, and the Fort Worth Dental Society.
Dr. Murrey knows firsthand how important a person's smile is for his or her self-confidence, and that is what drives her to help patients achieve a smile that restores and exudes that confidence.  She is passionate about helping people attain their ideal smile through a treatment plan custom to each individual's needs.
When Dr. Murrey isn't practicing dentistry, she enjoys spending time with her husband, Matthew, and young sons, Winston and Patrick. She enjoys traveling, reading, and camping with friends and family.